How Gen Z is shaping the higher ed learning environment
A new generation of young adults is challenging the traditional classroom model and using adversity to fuel personal growth. Read more on how educators and librarians are adapting the learning environment to engage these young adults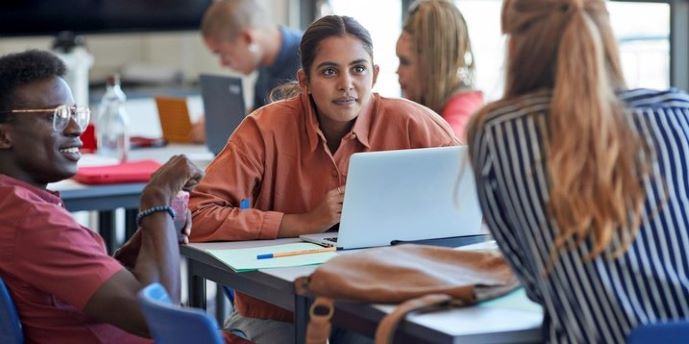 By Beth McGough, special to the ProQuest Blog
Generation Z or Gen Z (born between 1997-2012) is entering adulthood in an era of constant technological change. This diverse population group is set apart from previous generations because they were born into a world with unprecedented access to information. As we learned in a previous blog post, researchers studying Gen Z observed differences in the way this group approaches daily life and learning as far back as 2001.
Technology is not the only defining characteristic of Gen Z. The COVID-19 pandemic had a profound effect on the world and strongly influenced the growth and development of teens and young adults. Educators and librarians working with teens see firsthand the academic gaps and mental health concerns, but research shows Gen Z also emerged with increased empathy and resilience.
Today we continue our posts about Gen Z by looking at their unique learning behaviors and how the pandemic influenced their worldview.
Access and empowerment
Social media, such as Snapchat and WhatsApp, and related video platforms, such as TikTok and YouTube, play a central role in Gen Z social lives. The seemingly ubiquitous use of social platforms between friends has spilled into the classroom. For example, Gen Z expects to communicate with instructors through the same social platforms they use in daily life – not email.
While this may be a challenging transition for some older generations, others see an opportunity.
On the Next Generation Catalyst podcast guest Matthew Glotzbach remarked:
"Technology and access to information has really empowered this next generation to own their own learning…. They're really taking learning into their own hands. They are finding the tools they need to augment their own learning, enhance their own learning in the traditional classroom…through digital technology."
Libraries can use apps designed specifically to deliver collections and services via the students' phone, empowering this generation's interest in self-service and independence.
Evidence of Gen Z's preference for active learning is seen in studies across countries and disciplines. A study in the International Journal of Environmental Research and Public Health concluded Gen Z nursing students from a Spanish Higher Education Institution want an active clinical learning experience.
"[In] the clinical learning environment, they preferred teaching methods such as linking mentorship learning to clinical practice, online tutorials or videos, interactive gaming, and virtual learning environments."
Understanding Gen Z's preferences will help educators and librarians plan and create learning environments that engage these young adults.
Librarians must also consider the role of Gen Z's expectation of immediate access to video and other forms of content in conjunction with the need to teach them to use authoritative sources. Of course, the library has always been the gateway to authoritative content but a student, especially an undergraduate, may think of the stacks rather than the A to Z list as they open the YouTube app. By providing access to engaging, curated sources like the video and ebooks in ProQuest One Academic, librarians will meet the needs and expectations of students.
Learning and growing in the face of adversity
Much has been written about the negative effect of the educational disruption caused by the COVID-19 pandemic but there is more to the story. While teens missed out on in-person social events and milestones like walking across a graduation stage, there was a silver lining in students experiencing increased empathy.
The Pearson Global Learner Survey 2021 revealed how "our humanity shined through the heartbreak."
The survey of 6,000 college students and parents of school age children uncovered a sizable increase in empathy among children and college students -- 83% of parents and 85% of college students shared a new or growing awareness of others' struggles post-pandemic.
The rising empathy was coupled with a growing interest in social issues, particularly education, healthcare and racial equality. After the forced shift to virtual school exposed the digital divide, the survey found 90% of respondents now believe internet access is a basic human right.
Online schooling was a challenge for many but globally respondents expressed faith in their education systems and the belief that education is the foundation for success. College students, given the time to reflect, shifted their mindset on higher education. The pandemic inspired 45% of college students to consider a career in healthcare or science and 56% are reconsidering their career path.
With these shifts in mind, librarians can consider the importance of multidisciplinary resources in varied formats like ProQuest One Academic. It covers social issues, healthcare, science, the intersections between these subjects and many others. On one platform students have the space to serendipitously find essential, authoritative content.
Parents and college students acknowledged the pandemic disruptions caused anxiety, increased stress levels or mental health issues, which we will more fully address in a future blog post. Despite these challenges, the Pearson survey revealed that "the pandemic has also given us the opportunity to create a better version of ourselves."
Two-thirds of college students share that they have gained self-motivation, adaptability and emotional resiliency. Nearly as many parents report their children gained adaptability skills, plus 77% of parents are optimistic their children grew more resilient.
The kids are alright
In 2023, COVID-19 continues to evolve and affect our lives. Gen Z emerged from the first difficult months and years of disruption and isolation more adaptable and resilient. As a stronger, smarter Gen Z continues to enter higher education, instructors and librarians will need to question whether they are providing these active learners with an engaging space fostering continued growth.
Interested to learn how to engage a new generation of students and drive Academic Excellence at your institution? Visit us to learn how ProQuest, part of Clarivate, can help.
Academic sources for this piece include journals, ebooks, videos and dissertations accessed via ProQuest One Academic and ProQuest Central.
Beth McGough, MLIS, is a passionate library supporter and advocate, experienced online content creator and data storyteller. She is currently writing and advising on content for and about libraries, research and higher education.

Beth McGough
Special to the ProQuest Blog