How libraries can engage Gen Z students
By understanding Gen Z students' priorities, respecting their preferences and meeting them where they are, librarians and faculty at colleges and universities can empower a new generation of learners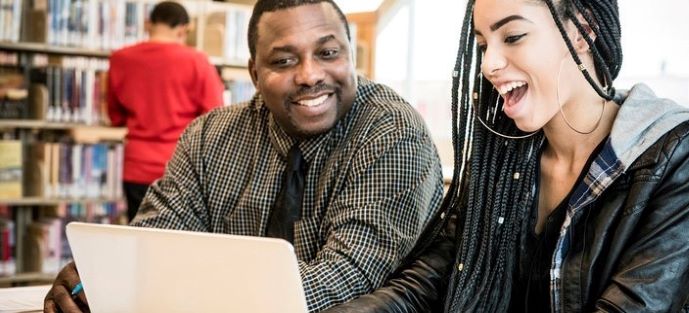 A new report on Americans' trust of university brands found that Gen Z students (those born between 1996 and 2010) have the lowest trust in universities of any generation. Meanwhile in the U.K., a poll published by the University of Winchester finds Gen Z students are carefully evaluating universities based on teaching excellence and the university's stated values and priorities.
Reports and studies around the world reveal a picture of Gen Z students as more skeptical, discerning and future-focused than previous generations – the "reality-check" generation. Ann Kingston, writing in the Canadian news magazine Macleans, describes Gen Z as "smarter than Boomers and way more ambitious than millennials."
This is a generation highly capable of making informed, intelligent decisions to drive their academic and professional success. Successful educators are embracing an empathetic approach to Gen Z learning, adopting technologies and strategies that respond to changing student needs and attitudes.
With that in mind, we explore the traits of Gen Z students and some practical ways to meet them where they are:
Filling skills gaps and addressing the Gen Z hunger for the human interaction and personalized guidance they may have missed out on during distance learning
Providing professional development through work study programs and customized collection development
Supporting cross-disciplinary programs that pair STEM with humanities
Implementing communication and content strategies that connect with students who rely heavily on smartphones
Bridging the quantitative skills gap
A Chronicle of Higher Education 2022 piece on Reimagining the Student Experience identified "to be able to get a better job" as students' top reason for attending a university and "cost" as their families' primary source of anxiety about enrolling their children.
Many of the future jobs that require bachelor's degrees (or higher) and are projected to see the most growth as Gen Z students enter the job market will demand computational thinking, data analysis and/or coding skills.
While GenZers may generally be perceived as tech wizards, the effectiveness of their early education exposure to computer science concepts, if any, varies widely. Mastery of the underlying math and problem-solving skills may be particularly lacking for new college students – those whose high school quantitative training was interrupted by the pandemic.
Libraries can play an important role in addressing this gap:
For some students, training in performing nuanced searches of their academic libraries' research databases may serve as a valuable introduction to using text queries to access and manipulate data. In addition to introducing students to the library's resources and reducing reliance on general internet searches, this training frames librarians as helpers – a great step in building relationships that can span students' college careers.

When marketing the availability of sessions in online database training, make sure to speak to the needs of Gen Z students by positioning the sessions as a way to build data skills for future employment as well as learning how to locate and use professor-approved content.


While Gen Z students are digital natives and seamlessly blend their online and offline lives, they crave personal interactions. Be sure to collaborate with math and computer science faculty to host in-person remedial sessions in the library, as activities held in the physical library can to help satisfy that need. Need more space for those sessions? Reclaim space by converting print stacks to online collections.
Shaping work-study to fit Gen Z
At many universities, the library system is one of the largest providers of work-study positions, helping students offset college expenses with part-time income. Academic librarians who thoughtfully define these student employment opportunities and communicate their availability to students play valuable roles in empowering Gen Z learners for whom access to financial resources and income-generating professional development are top priorities.
Think broadly about how student workers' roles can be redefined to include professional development, along with traditional tasks. An example might be learning Python or other programming languages relevant to information organization and access.
Where to start? If you're game to make some changes, ask current Gen Z employees about how they would reshape their roles and tasks that interest them in the library. If their answers intrigue you, engage them in helping to create and recruit for new roles.
Collection strategies for professional development
In a recent webinar, Adrian Graham, eResources Librarian and Associate Professor at Austin Community College (ACC), a U.S.- based institution of public higher education serving more than 70,000 students, shared a notable example of how academic librarians can empower Gen Z professional development and income opportunities.
In 2020 Elon Musk announced Tesla's plans to relocate from California to Texas in the U.S. Graham explained how, in 2021, ACC libraries enhanced their digital collections to meet an increased demand for niche resources relevant to electric car manufacturing. Librarians worked across disciplines and departments, engaging with faculty, Career Services staff and ProQuest to support ACC and Tesla's START Manufacturing Program, an innovative private-public collaboration.
The rise of STEAM
In the University of Winchester poll, Gen Z students rate the quality of care by the National Health Service and the climate crisis as their top concerns. That finding is consistent with other reports that show members of Gen Z are issues-oriented and are motivated to make a positive impact in the world. Universities that respond with practical ways to balance career security with activism are positioned to both recruit and retain Gen Z students.
In his 2021 book The Agile College: How Institutions Successfully Navigate Demographic Changes, published by Johns Hopkins University Press and available in Ebook Central, author Nathan D. Grawe highlights innovative "CS+X" programs that pair a computer science degree with a humanities degree of the student's choosing. Lewis University in the U.S. Midwest is embracing and promoting these cross-disciplinary programs, also known as STEAM (Science, Technology, Engineering, Arts, Math) programs.
In a September 2022 interview, Dr. Mike McFerron, a Lewis University music professor who collaborated with computer science faculty to spearhead a Computer Science + Music degree, explained these programs allow undergraduates to pursue their passion while simultaneously developing software development skills with wide-ranging professional applications. "Successful Gen Z student engagement depends on the university's ability to provide innovative, interdisciplinary courses of study that nurture students' professional development," he said.
Academic libraries can support trends like these by investing in multiformat, multidisciplinary databases that integrate humanities and STEM content.
Communicating with Gen Z
For academic libraries, strategies for engaging GenZers also need to connect with them on a more literal space where Zoomers' eyes are often fixed: on their phones. Gen Z spends more than 4 hours a day on their phones, relying on them to accomplish a broader range of tasks than the generations that precede them.
Maintaining a social media presence is critical for staying in a Gen Z news feed, but it's important to remember those environments are filled with distractions. Today's educators are competing with multi-billion-dollar social media companies, particularly TikTok, Meta (Instagram, WhatsApp and Facebook) and Alphabet (Google and YouTube), for their students' attention, focus and trust. Recognizing the immense challenges of that reality and adapting to it are essential to successful Gen Z university student engagement and retention.
Technologies like the Ex Libris Library Mobile App from Clarivate enable libraries to cut through some of the challenges in connecting with Gen Z (inundated inboxes, addictive apps, etc.), and communicate details about access to library collections directly to users via app push notifications. These appear prominently as quick, easy to read messages on smartphones' home screens.
Embracing Gen Z
By so many measures, Gen Z is a remarkable generation: hard-working, politically aware, often driven by altruism. "While they are naturally used to instability, they will be drawn to stability," says Michael Stone in Forbes. "They look for places where they can place their trust." There lies the opportunity for academic libraries and the institutions they serve.
By respecting and understanding Gen Z priorities – meeting them where they are – they can be connected to all that universities have to offer and empowered to realize their own personal missions.
ProQuest is here to help
To learn how ProQuest, part of Clarivate, can help libraries engage students of all types, including Gen Z, visit us at Engage Every Student. To read more about new Gen Z students read our blog What defines the next wave of GenZers entering higher education?
Academic sources for this piece include journals, ebooks, videos and dissertations accessed via ProQuest One Academic and ProQuest Central.
Business sources including the Financial Times, Wall Street Journal and industry reports accessed via ProQuest One Business.
For access to an extensive database of ebooks about GenZ explore ProQuest Ebook Central.