On Making More Voices Heard
How ProQuest aims to support libraries in building diverse, equitable and inclusive collections affordably.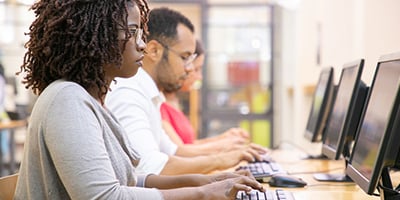 There is increased demand to support students and researchers with access to insights and information from a wide variety of perspectives. Librarians tell us that addressing those needs challenge them in two ways: finding the content and then, finding space in the budget for it.
Through collections and services, academic libraries have a unique platform to support diversity, equity and inclusion (DEI) initiatives, ensuring representation of diverse users and reflecting every voice, regardless of race, gender, sexual orientation, physical ability or belief.
Not only are libraries committed to these principles – it is often libraries leading the way in their institution's DEI initiatives. They're doing this by:
Ensuring more equitable and authentic representation. Faculty depend on teaching resources that truthfully and accurately depict events and experiences from the perspectives of those who witnessed and lived through them.
Including voices that have been previously marginalized. Libraries are reevaluating their collections to ensure people who have not been represented are not only included but are easily discoverable and accessible.
Providing more opportunities to learn from diverse perspectives. Students and researchers need to understand the issues of today (and yesterday) to prepare for the world they will be entering tomorrow. This makes it necessary for them to be exposed to different backgrounds, experiences, identities and orientations.
Faculty and librarians also tell us these efforts can be challenging. Change is hard – even when it is exciting, inspiring and the right thing to do. The systems that are in place have existed for a long time and biases are often inherent, making it difficult to see how and where teaching, research and learning can be more diverse and inclusive.
Then there is the budget. Libraries and faculty are continually expected to do more with less – which makes it difficult to grow collections and services.
Learn more about how ProQuest is working to help on both fronts.
Diverse, inclusive content with an authentic voice
ProQuest's commitment to providing a rich selection of content that's diverse and inclusive has deep roots. In early digitization projects we went directly to the source of alternative viewpoints, partnering with content providers like Real Times Media – publishers of the Chicago Defender. The result: broad, global access to unique collections and archives that provided counterpoints to mainstream narrative.
Over subsequent decades, we built on that model, expanding our content types and partnerships – including the NAACP, African Books Press, Duke UP, Sproutflix, Red Cross Records, Aboriginal Health Research Networks Secretariat (AHRNetS), Women's International League For Peace and Freedom, the Communist Party of America, The Kinsey Institute Archive and Library, Third World Newsreel, the USC Shoah Foundation – with the goal of featuring authentic, alternative voices in books, video, scholarly works and primary sources.
Affordable solutions for diverse and inclusive content
No matter your budget, we can help you prioritize to feel confident that you're spending where it will have the greatest impact. ProQuest's teams of experts – librarians, analysts and subject matter specialists – can analyze your existing collection to reveal gaps and biases. Those insights can help make purchase decisions that align your collection to the immediate needs of your users and help you plan for your long-term collection goals.
From unique access models and purchasing plans to special pricing, title-matching and product bundles, there's a wealth of options available to make your budget work harder for you.
ProQuest's commitment beyond diverse and inclusive products
ProQuest's commitment extends beyond the content we provide. More than 20 years ago we became a charter sponsor of the American Library Association's Spectrum Scholarship program, which helps to create a more diverse and inclusive librarian community. To date, we have sponsored nearly 200 scholars and proudly watched them move into library leadership roles.
Within our company, our team members have built global networks and alliances representing women, the LGBTQ+ community, racial diversity, mental health and more, providing guidance to company leadership and opportunities for all employees to make their voices heard.
We're also opening important content, enabling libraries to provide free resources that build understanding. Black Freedom Struggle in the US website, an open resource featuring thousands of key primary source documents that chart triumphs and resilience in the fight for civil rights, debuted in October. This database is available free of charge to all.
We're continuously challenging ourselves and deepening our own understanding of diversity, equity and inclusion. ProQuest is committed to continuing that journey so we can respond to the evolving priorities of your library and all of its users as well as our employees and communities.
Explore Every Voice: Authentic, affordable solutions for diverse and inclusive collections and begin discovering the many ways we can help you make sure every voice is heard in teaching, research and learning.