December 2021 Top Titles at Public Libraries
Here are the top twenty titles public-library patrons looked for in December 2021

The big new in Decemeber are two books released in the last week of November: Jodi Picoult's Wish You Were Here and Diana Gabaldon's Go Tell the Bees That I Am Gone. Wish You Were Here is the first bestselling "COVID novel." The plot involves a young professional stranded in the Galápagos, her soon-to-be-fiancé left behind to fight the virus as a doctor in New York. Go Tell the Bees That I Am Gone is the much-anticipated ninth book in her "Outlander" series. Also notable is Amanda Gorman's Call Us What We Carry, the debut poetry collection from the youngest ever presidential inaugural poet. Call Us What We Carry received glowing reviews from many, including the New York Times, Washington Post, Kirkus and Publishers Weekly.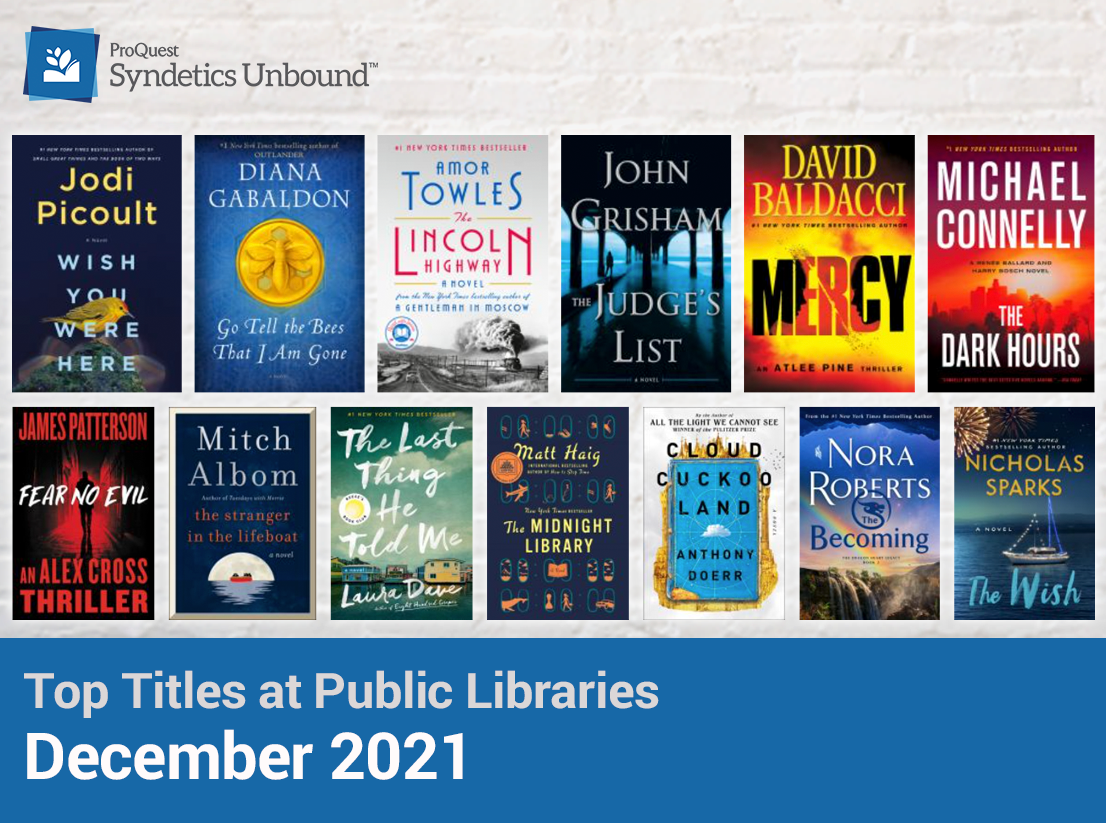 Wish You Were Here by Jodi Picoult
Go Tell the Bees That I Am Gone by Diana Gabaldon
The Lincoln Highway by Amor Towles
The Judge's List by John Grisham
Mercy by David Baldacci
The Dark Hours by Michael Connelly
Fear No Evil by James Patterson
The Stranger in the Lifeboat by Mitch Albom
The Last Thing He Told Me by Laura Dave
The Midnight Library by Matt Haig
Cloud Cuckoo Land by Anthony Doerr
The Becoming by Nora Roberts
The Wish by Nicholas Sparks
Autopsy by Patricia Cornwell
Call Us What We Carry: Poems by Amanda Gorman
Apples Never Fall by Liane Moriarty
Better Off Dead by Lee Child
Game On: Tempting Twenty-Eight by Janet Evanovich
It Ends with Us by Colleen Hoover
The Four Winds by Kristin Hannah
How Do We Know?
This data was collected by Syndetics Unbound. The search data is fully anonymized the day it is collected. For more information about Syndetics Unbound, please visit Syndetics.com.