Welcome to our new website: about.proquest.com
ProQuest's new company website is designed with your needs first.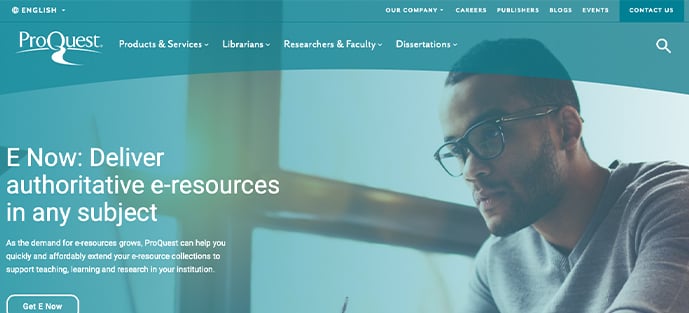 By Jeff Wilensky, ProQuest Vice President, Marketing
Welcome to the new ProQuest website: about.proquest.com.
Whether you're a librarian, a researcher, a teacher or a prospective employee, our new site is designed to answer your questions, get you to resources quickly and connect you with the right support. Thanks to the many users who gave their input and guidance to help us build a website that meets your needs.
Simple navigation from anywhere
Search for any of our resources by name, by subject or by format (like primary sources, streaming video or books). You'll also find links to our other brands, like Ex Libris and Innovative, so you can view wider solutions for your institution.
Making a decision about a product? In addition to rich descriptions of what the product can do and who it serves, you'll find videos, images, case studies and reviews. Resources like LibGuides and marketing tools will help you get the most out of products you already have.
Explore content based on your role
Librarians will find help for solutions to library challenges, upcoming webinars and other information such as our privacy and accessibility policies. Researchers and faculty can browse collections by the subjects they teach or research.
Specialty focus sections such as dissertations have expanded in new ways, too. You'll find content for dissertation authors and PhD candidates, administrators and librarians. You'll also find each month's most downloaded dissertations (a great way to assess research trends), and guidance for how to submit or search for a dissertation.
News, blogs, events and more
We've made it easier to find other kinds of content, too. For example, our popular blogs have a new homepage that enables you to dig into our trove of evergreen topics. View upcoming events in a single place – and filter them by your interests and your region.
What do you think?
Explore the site and give us your thoughts! Please send us feedback to websitefeedback@proquest.com and we'll use it to continue to improve our site.
Thanks for spending time with us!