We Asked Three Questions About ProQuest One Business…
…and the product team shared new details about the industry's newest business resource.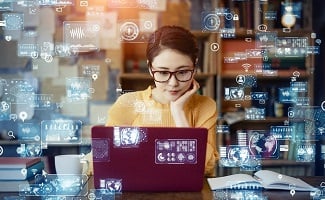 Last month, ProQuest announced the launch of a new solution designed to support the unique teaching and learning needs of business faculty and students. ProQuest One Business delivers a mix of multi-format content in an interface that helps business students build the research skills and confidence they'll need for courses and careers.
We recently chatted with three core members of the ProQuest One Business product team – Jo-Anne Hogan, Director of Product Management, Shubhra Misra, Lead User Experience Designer, and Gawen Lane, Senior Product Manager – who spent a few moments to answering a few key questions about the product and its development process.
Why was 2021 the year to launch a new business resource?
Jo-Anne Hogan: Our library customers have told us that most aggregated business products haven't changed much in years – not since print business resources transitioned to digital. Many of today's business databases were also designed with the professional or advanced user in mind, not the business student who is still learning how to do research.
The business student is exploring. They're trying to find what's available to either answer a research question, or to find and frame a research topic. For example, they may be told: "find two companies and compare them." Where do they start? What companies do they pick? How do they explore? ProQuest One Business is designed to guide this exploration. It adds a layer of curation and context that is missing from aggregated databases.
From your market research, what did you learn about today's business students and faculty?
Shubhra Misra: When we began developing this product back in late 2019, we observed the following from our initial contextual inquiry and usability study…
First, business students and faculty don't have a world of time to do research. Many business faculty members are part-time. And many of the students aren't traditional students – they're older, in their 40s to 60s, many with full-time jobs.
Second, we learned that most users were going to disparate sources for a single assignment. They had to visit different places for news, for academic information, for financial information, for video interviews, for book chapters, etc.
The need for a "one-stop shop" dominantly emerged. With the varied content in ProQuest One Business, we made all of these disparate sources available in one place. ProQuest One Business not only makes the research process smoother, but also saves time for busy students and faculty.
The idea of a "one-stop shop" sounds appealing, but how does ProQuest One Business actually make content more discoverable?
Gawen Lane: True, a one-stop shop is all well and good, but if the content is still buried, people will bail. They'll go right back to those disparate resources or the open web where they may spend even more time and find less valuable sources. We really have designed ProQuest One Business to prevent that. The visual interface and results page bring users to their information destination as quickly as possible – before they give up.
For example, if you're looking for information on Apple, you can go right to the Apple company page and immediately find all the types of content about Apple right in front of you: news, videos, financial information. You don't have to look any further. Maybe you bookmark the page and check back to see what new information emerges. Maybe you quickly find Apple isn't suitable for your assignment and move onto another company. The quicker you can find basic information, the better.
Jo-Anne Hogan: Students aren't going to spend time reading results or playing with filters. They want to validate their idea right away, with a single glance. And a long-awaited product like ProQuest One Business allows them to do that.