The Books of Summer
It was a season of hot, fun, sometimes escapist reads.

Summer isn't officially over until September 22, but with most children back in school or about to go back, it feels over already. Did you get any beach reading done? (We did, and it felt great.)
The 50 Most Popular
Here are the fifty most popular books in US public libraries from June 1 to August 31, according to Syndetics Unbound.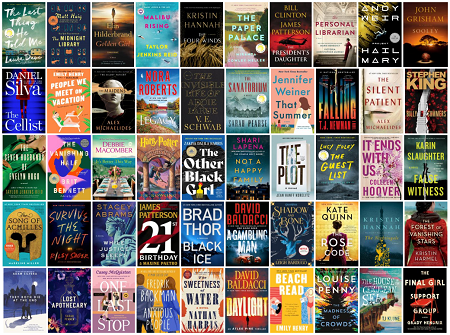 Summer 2021 Wasn't Summer 2020
So what were public library patrons reading this summer? Well, let's compare it to 2020.
Summer 2020 was an eventful time. COVID was in full swing, travel was limited, and nobody was vaccinated. The George Floyd / Black Lives Matter protests began in late May in Minneapolis and had spread across the country by June. A major national election loomed.
Reading followed the news. US public library patrons checked out Robin DiAngelo's White Fragility, Ibram X. Kendi's How to be an Antiracist, Mary Trump's Too Much and Never Enough and John Bolton's The Room Where it Happened. All-told, at least 8 of the top 50 summer 2020 books could fairly be classed as "non-fiction."
2021 has been different and American reading different. How different? For starters, every single one of the top 50 summer 2021 books has been fiction! The most popular non-fiction book appears to have been I Alone Can Fix It: Donald J. Trump's Catastrophic Final Year by Carol Leonnig and Philip Rucker, which came in at 56th in popularity.
Staff Reads
What did ProQuest and LibraryThing staff read this summer?
Abby Blachly (LibraryThing)
Abby had a summer of mysteries, including The Stranger Diaries by Elly Griffiths and The Long Call by Ann Cleeves.
Beat Barblan (ProQuest)
Beat dipped back to ballet with Rites of Spring: The Great War and the Birth of the Modern Age by Modris Eksteins.
Doug McMillan (ProQuest)
Doug got a new puppy, so his summer read has been The Puppy Whisperer by Owens and Cranendonk. "Not that it seems to be working…"
Tim Spalding (LibraryThing)
Tim enjoyed Andy Weier's Project Hail Mary, and I Alone Can Fix It: Donald J. Trump's Catastrophic Final Year by Carol Leonnig and Philip Rucker.
Stacey Volanto (ProQuest)
Stacey devoured the Shades of Magic trilogy by VE Schwab—totally escapist.
Kate Krieger (LibraryThing)
Kate enjoyed Such a Fun Age by Kiley Reid, God Spare the Girls by Kelsey McKinney and Circe by Madeline Miller.
The folks at ProQuest and LibraryThing hope you had a good summer—reading and otherwise!