Religion, Women's Rights, Violence, Grief: Just a Few of the Themes Explored in Groundbreaking 'Purple Sage' Documentary
'Riders of the Purple Sage: The Making of a Western Opera' takes viewers through the process of bringing new life to a 110-year-old Zane Grey novel

By Alison Roth
An opera focused on America's cowboy culture? If you think that's an unusual pairing, you're not alone.
A new documentary film, Riders of the Purple Sage: The Making of a Western Opera – now available to libraries exclusively through ProQuest – explores the magic of this dichotomy, its patchwork of modern-day themes, and the creative process that brought it to life. Directed by Emmy®-winning filmmaker Kristin Atwell Ford (, the documentary takes viewers through the journey of turning Zane Grey's 1912 western novel, Riders of the Purple Sage, into a classical operatic performance.
In an interview with ProQuest, Atwell – herself a bit of a dichotomy, growing up as both a theater student and a river guide – said when the novel was published, its themes were well ahead of their time.
Set on a Utah ranch in 1871, the protagonist Jane Withersteen fights for the right to her land, her property, her body and her power. Lassiter, a gunslinging avenger, shows up to save Jane from marrying a Mormon elder against her will. "It's uncanny how relevant it is to the issues of today," said Atwell, referencing topics like #metoo, the abuse of power, vigilante justice and women's rights.
A century later, classically trained composer Craig Bohmler discovered Grey's work in a Kindle download and recognized its operatic potential. He mentioned this at a 2012 dinner with Atwell, who immediately envisioned Bohmler's music intertwined with the artwork of Ed Mell, whose paintings and sculpture capture the beauty of the American west.
"An opera rolls many different disciplines into a single art form, and I thought it would be fascinating to explore how an opera is made," Atwell said. "For me, it became about exploring each person's creative process. What was Zane's writing process? How does Craig create his music, how does Ed create his art? How do the singers prepare to perform? And how do art and life collide in the making of a new opera?"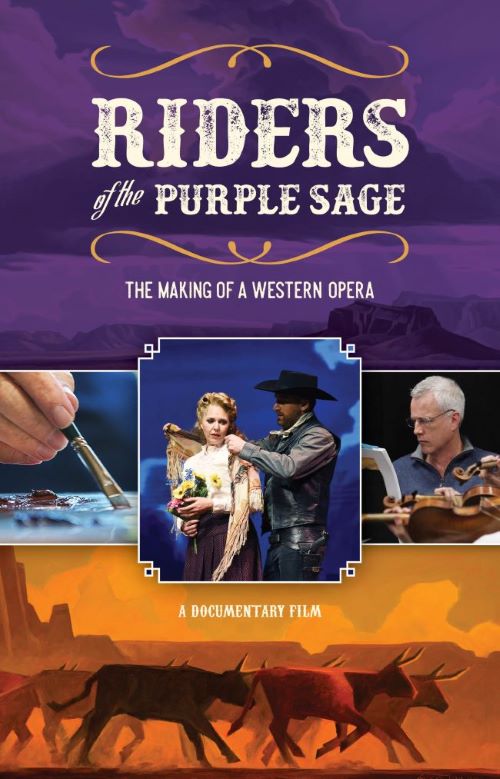 With that, the opera – and this documentary – were born. Filmed over six years, the documentary explores the process of building the opera from the ground up, as well as the nuances of people from different disciplines working together on a shared vision. Each artist brings their unique skill to create something more powerful through collaboration. After its launch in 2020, the documentary film was nominated for four Rocky Mountain Emmys® and has won several awards on the film festival circuit in the U.S., Australia, Mexico, Russia, and Romania.
Riders of the Purple Sage: The Making of a Western Opera is available to libraries exclusively through Academic Video Online and ProQuest One Academic. It's an incredible addition to theater, film and music curriculum, Atwell says, but that just scratches the surface.
"This film can be used in history, women's studies, even English classes," she said. "With a popular novel as the source material, we can look at the way that the literature of the early twentieth century influenced our historical perception of the west, including the theme of Indigenous voices. Every adaptation of this story reflects the era in which it was created. And in our era, we need to rethink outdated perceptions."
The documentary is narrated by actor and voiceover artist Peter Coyote and features some of the last known footage of Carlisle Floyd, known as the "grandfather of American opera," before he died in 2021. Floyd was a teacher and longtime mentor to composer Craig Bohmler.
Riders epitomizes the multidisciplinary nature of Academic Video Online. To get access to Riders and 75,000 other documentaries, performances, feature films and more, request a trial or quote for Academic Video Online.