November 2021 Top Titles at Public Libraries
Here are the top twenty titles public-library patrons looked for in November 2021

Only a few of the November Top Titles are new to the list. Among the stand-alone titles was Never, a political thriller by Ken Follett. Weighing in at 800 pages, Never is an "action-packed, globe-spanning drama." A number of series also received new sequels: Diana Gabaldon released the eighth "Outlander" book, Go Tell the Bees That I am Gone; Janet Evanovich released the 28th "Stephanie Plum" book, Game On: Tempting Twenty-Eight; David Baldacci released a fouth "Atlee Pine" book Mercy; and Michael Connelly released the fourth "Renée Ballard and Harry Bosch Novel," The Dark Hours.
Patrons were also checking out Frank Herber's 1965 science fiction novel Dune, in the wake of the movie debuting on October 28. We predict that December will see interest in Emily St. John Mandel's 2014 post-pandemic novel Station Eleven; an adaptation arrives on HBO Max on December 16. An adaptation of Elena Ferrante's The Lost Daughter arrives in theaters on December 17.
The Judge's List by John Grisham
The Dark Hours by Michael Connelly
The Stranger in the Lifeboat: A Novel by Mitch Albom
The Lincoln Highway by Amor Towles
Better Off Dead by Lee Child
Game On: Tempting Twenty-Eight by Janet Evanovich
Apples Never Fall by Liane Moriarty
Never by Ken Follett
Mercy by David Baldacci
The Wish by Nicholas Sparks
Cloud Cuckoo Land by Anthony Doerr
The Last Thing He Told Me by Laura Dave
The Midnight Library by Matt Haig
Dune by Frank Herbert
State of Terror by Hillary Rodham Clinton
The Sentence by Louise Erdrich
Oh William! by Elizabeth Strout
Go Tell the Bees That I am Gone by Diana Gabaldon
Big Shot (Diary of a Wimpy Kid Book 16) by Jeff Kinney
Wish You Were Here: A Novel by Jodi Picoult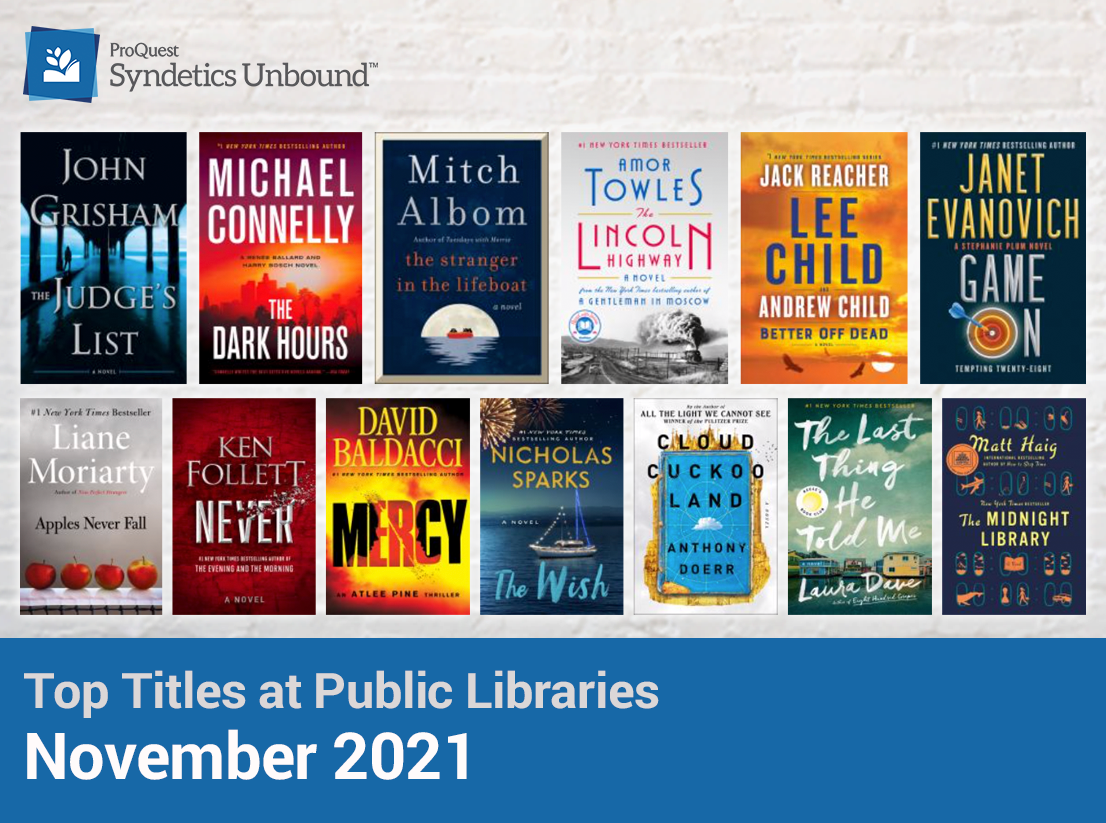 How Do We Know?
This data was collected by Syndetics Unbound. The search data is fully anonymized the day it is collected. For more information about Syndetics Unbound, please visit Syndetics.com.