Joy: 'A Revolutionary Act in the Face of Despair'
Experts talk about creating happiness in Mission: JOY panel discussion

By Alison Roth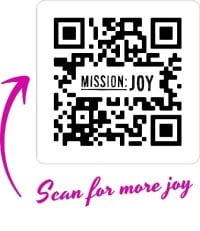 The statistics are bleak: according to the World Health Organization, nearly 300 million people suffer from depression. Just a quick glance at the news or a scroll through social media highlights our plight: disease, poverty, conflict, oppression, a world consumed by natural disaster. In such troubled times, how is it possible to ever embrace happiness again?
That was the topic of an October 5 panel discussion about creating joy, inspired by the international bestseller The Book of Joy and the documentary Mission: JOY – Finding Happiness in Troubled Times. Both book and film explore the friendship between His Holiness the Dalai Lama and Archbishop Desmond Tutu, and how these men – despite their hardships – have remained two of the happiest people on the planet.
Peggy Callahan, co-director of the documentary, moderated the panel discussion and took questions from the audience, which included librarians, faculty and students.
Finding hope and sharing gratitude
One attendee asked how to nurture hope after living through the past 18 months of the COVID-19 pandemic. Panelist Dr. Elissa Epel, a professor of psychiatry and vice chair at the University of California, San Francisco, said it's normal to feel hopeless, and that the questioner was far from alone.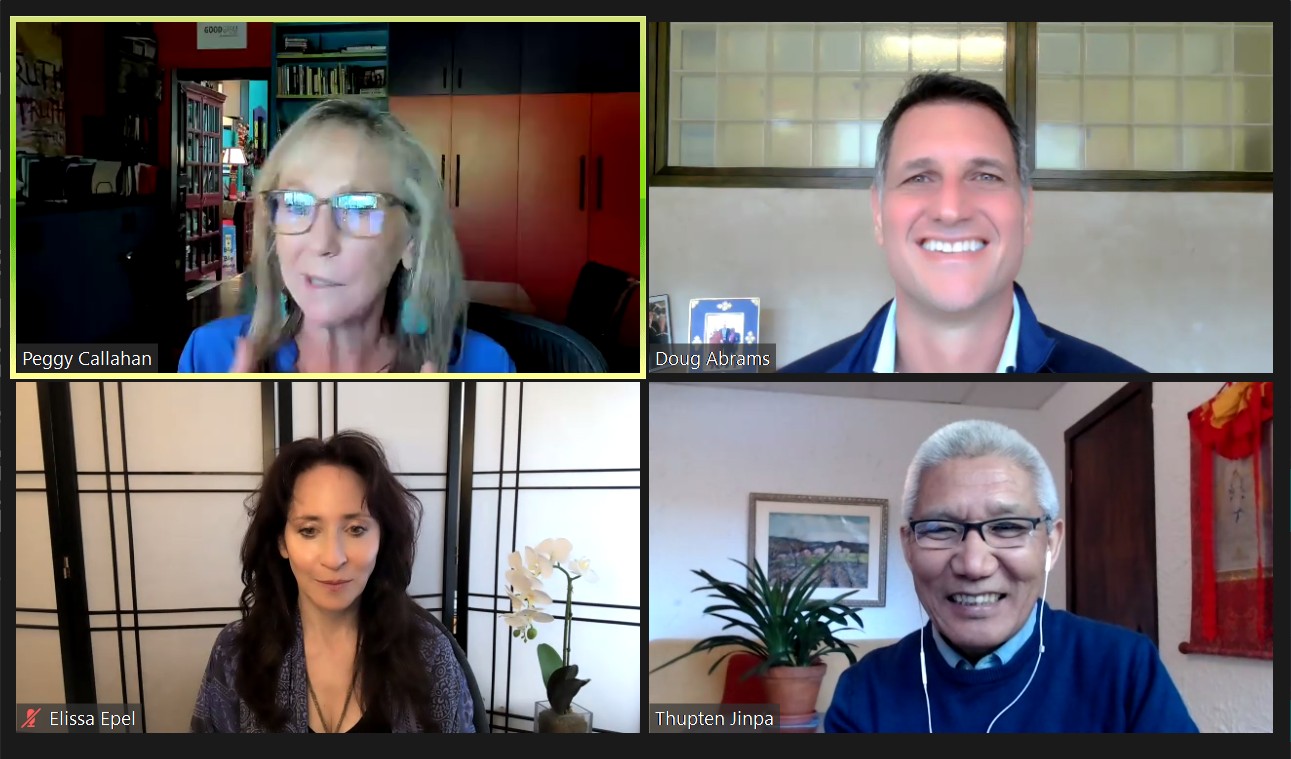 "First, don't criticize the way you feel," Epel said. "Allow it, make room for it, express it. Showing you're feeling sad or weak is a strength. Second, know and understand the nature of joy. You may not feel it in the moment, but it's all around you, and you can experience it in the next moment."
Doug Abrams, The Book of Joy author and executive producer of the film – in which he interviewed Tutu and the Dalai Lama – explained the importance of "widening the lens" and recognizing that there is an extraordinary amount of goodness happening in the world, despite our tendency to focus on the negative.
"There are four human emotions: fear, anger, sadness and joy," he said. "When we fixate on what is painful and heartbreaking, that's all we see. Joy can be a revolutionary act in the face of despair."
Epel, who researches the science of well-being, said that being joyful isn't just a state of mind – it's a prescription for health, as many studies show happiness makes people physically healthier. When all else fails, she said, a simple way to build the "muscle" of hope is to simply express gratitude.
"Think of one thing in your life that you feel appreciation for – and let yourself feel that gratitude," Epel said. "We know that expressing gratitude to someone immediately changes their mood, changes how they feel. Text someone today and tell them what you're grateful for."
The importance of connection
Another attendee asked about overcoming the negativity that's so prevalent in social media. Dr. Thupten Jinpa Langri, English translator for His Holiness the Dalai Lama, cautioned viewers that we should always scroll with care.
"I'm not a big social media person. Right from the beginning I noticed the potential for its dark side," he said. "What's really important is for [users] to have a sense of confidence in who they are, reinforced through a network of close friends they can trust. Then…[the negativity] won't impact you as much."
"Depression travels in social networks," Epel said. "Disgust, anger and moral outrage travel like wildfire. But joy does as well." In addition to trying to engage with positive content on social networks, she recommended limiting their use and focusing more on in-person and real-life connections.
"As social creatures, the best way of dealing with depression, stress and suffering is to seek help," Langri said. "We have a superhuman image of ourselves and we see dependance as weakness. Reach out. The strongest antidote against loneliness is relationships."
Joy "life hacks"
In addition to sharing their wisdom and even a few quick "life hacks" for embracing joy (visit The Big Joy Project for more details), each of the panelists shared how finding joy has helped them through personal hardship and tragedy: Abrams, for example, recently lost his father and two close friends.
Langri said that experiencing suffering and hardship is part of the human experience, and while we don't have a say in what happens to us, we can always control the way we respond.
"The suffering will always be there," he said, and then shared a bit of wisdom he learned from a spiritual teacher: "If your heel is being pricked by a thorn, you can't cover the face of the earth with leather. But if you cover your tiny shoe soles, that will do the trick."
Watch the Mission: JOY event recording
To get access to Mission: JOY and more films like it, request a trial or quote for Academic Video Online.