Improving Diversity and Inclusion in Scholarly Publishing
Why scholarly resources about underrepresented communities need to be written by and for people from those communities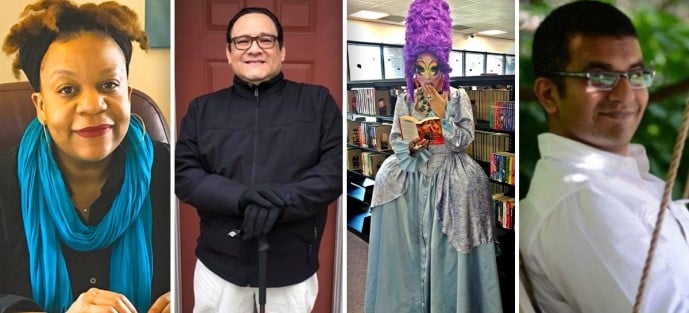 The question came up again and again: Who is the intended audience of scholarly works?
In our recent webinar, Improving Diversity, Equity and Inclusion in Scholarly Publications, panelists discussed how conventional scholarly resources do not always accurately or authentically represent the language, viewpoints, values or experiences of underrepresented communities.
Director of Northwestern University Press, Parneshia Jones started her publishing career working for one of the oldest Black publishers in the country. She explained, "I entered publishing through what are considered marginalized voices or voices that are not at the forefront of publishing. I really didn't think it was out of bounds or outside the box or special to publish unheard voices."
"I thought that was just a part of being curious, a part of excellence, a part of being decent human beings that we want as many people to have a seat at the table."
However, when she came to Northwestern, she realized "one of the biggest challenges in publishing voices who have not traditionally been published comes from within publishers."
"It can be difficult making the case that there are people out there who want these books," she explained. "Our job as publishers needs to be understanding diverse authors, their intentions and the possibilities of their books."
According to Jones, "publishing so many different voices should not be a specialty." She is working toward the day when diversity in publishing "is not a big deal anymore. I am working toward us not needing panels and debates about why it's important to publish diverse voices or marginalized voices."
"Ideas are not borne out of the disembodied heads of scholars"
University of Michigan PhD scholar Salman Hussein discussed his struggles to research the immigrant experience as a non-academic immigrant tech worker in the U.S. He sought to explore how migrant "lives and livelihoods are structured, and how transnationalism is impacted, by the status of work visas."
Hussein himself was "caught in the vice-like grip of visa-granting employers," and he was initially driven as an activist toward the topic that eventually became the focus of his dissertation.
As an autodidact, he pursued scholarly content on the internet, but was confronted with the assumption that people outside of academia were not interested in these topics and materials.
"Academic books sometimes have this throw-away phrase on the back of the cover that announces 'this book is also for the general reader.' However, it was apparent to me that the eco-system of academic publishing at large didn't believe this general reader actually exists."
"The language [of scholarly works] is often crafted in a way that creates this layer of inaccessibility," Hussein pointed out, and the cost of these resources is often inaccessible to researchers working outside of an academic institution.
While he acknowledges "specialized discourse is necessary for furthering knowledge and understanding," Hussein noted "this specialized discourse doesn't stand on its own, unassisted. There is a political economy undergirding scholarship…Ideas are not just borne from the disembodied heads of scholars."
Rather, Hussein argued that scholarship is rooted in the real world and "is not a one-directional" dissemination of research out into the world "but a loop from lay folks to the scholars."
"This is literally not how we talk about what we do"
Like Hussein, transgender drag performer Dr. Lady J came to academia from activism and lived experience. She wrote her dissertation "From the Love Ball to RuPaul: The Mainstreaming of Drag in 1990s" as a PhD scholar at Case Western Reserve University.
She said she also struggled with "an imagined reader who could understand this [academic] language when most drag performers I know don't have access to a college education, much less a graduate level education." When reading scholarly works, she realized, "this is literally not how we talk about what we do. This has nothing to do with how we talk about what we do."
Dr. Lady J explained there is an "intrigue within academia around [drag performance] but not the first-hand knowledge or experience."
Rather, much of the research that had been done about drag had been conducted by those outside of the drag community, in effect erasing the trans narrative. She said when the topic of trans women in the drag world arose, "it would be problematized and a version of how drag distorts people rather than how drag is a way for many people like me to find themselves."
As a result, when Dr. Lady J began gathering resources for her dissertation on the history of drag performance, she found scholarly writing that offered "a lot of good commentary on gender, but not good commentary on drag."
Because of the deficit of scholarly content available, Dr. Lady J was initially dissuaded by advisors from pursuing her dissertation topic. Instead, Dr. Lady J doubled down. The dearth of research on the history of drag history only fueled her determination.
"I realized I have this perspective that was unique, and I brought this background that was missing."
The validity of unconventional resources in scholarship
In light of how conventional resources might not be the most insightful or accurate for some research topics, Roberto C. Delgadillo, Student Services Librarian at University of California-Davis, was asked how he addresses push back from faculty who require students to use traditional peer-reviewed resources.
"Students struggling to find resources often have a limited mindset about what resources are acceptable and often unconventional resources, such as content from popular culture, are overlooked," he explained.
He said the approach to research that insists on use only of traditional, peer-reviewed sources not only dissuades many students and researchers from exploring unique avenues of research and research topics, but it also inhibits their ability to meaningfully engage with ideas.
When it comes to traditional scholarly articles, Delgadillo said sometimes "these materials are ensconced in academic language that seems impenetrable" and students then feel compelled to "regurgitate" this way of writing without fully understanding what it means.
Rather, Delgadillo said he encourages student to think creatively about the diversity of sources that are available. Content like oral histories, blog posts, independent publications, video and other formats, he explained, "provide vital commentary. While they may not initially be considered scholarly resources, they reflect perspectives, experiences and new frameworks of understanding."
Of course, the challenge is in finding these kinds of sources. A general internet search for materials is risky and can surface a lot questionable content, he pointed out, but increasingly academic databases provide access to unconventional content that is appropriate for research and learning from a variety of perspectives.
The goal for the panelists in this conversation is ensuring these sources are available to all students and researchers.
How can ProQuest help?
Watch the video and explore Every Voice: Discover authentic, affordable solutions for building diverse and inclusive library collections that reflect every voice, regardless of race, gender, sexual orientation, physical ability, age or belief.