Equitable Access to World-Class Performances
National Theatre Collection: Volume II brings the very best of British theatre into the classroom – whether in person or online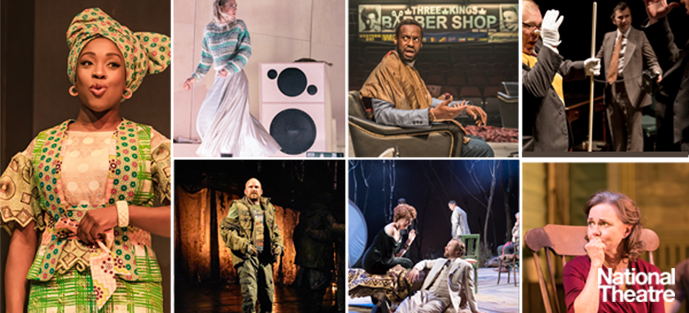 With the closure of many live performance venues and campus libraries, students have had far fewer opportunities to experience live theatre and limited access to critical drama resources. More than ever, performing arts faculty and students need access to electronic resources to support teaching and learning, whether on campus or online.
Through an ongoing collaboration with the U.K.'s National Theatre, ProQuest's National Theatre Collection brings high quality productions to theatre and drama departments through high-definition streaming video and unique archival material. Now available, National Theatre Collection: Volume II builds upon the first volume's 30 videos with an additional 20 contemporary video productions from award-winning actors and directors.
"ProQuest is thrilled to continue our collaboration with the U.K.'s National Theatre to offer students access to contemporary theatrical productions of the highest caliber. We support the National Theatre's mission of sharing unforgettable stories with the world in an accessible, inclusive manner."
—Lisa Campbell, Senior Product Manager at ProQuest
Support performance practice and scholarship with:
Equitable access – anytime, anywhere
The U.K.'s National Theatre believes that theatre is for everyone and renowned productions should be made accessible to as many people as possible. Through this partnership with ProQuest, acclaimed performances from the National Theatre can be used in teaching and learning anywhere in the world – whether courses are held online or in a physical classroom.
Classics re-imagined
Enduring works are reinvigorated for deeper appreciation by modern audiences, with inclusive casts and reflecting contemporary issues. For example, Chekov's iconic Three Sisters is relocated to 1960s Nigeria on the brink of the Biafran Civil War in an adaptation by Inua Ellams for a radically new twist on the classic play.
Learn from the greats
The collection features the work of acclaimed playwrights like Arthur Miller alongside contemporary adaptations of works by Strindberg and Chekhov, and performances by award-winning actors such as Sally Field, Bill Pullman and Anna Chancellor. This enables students to take inspiration from the most influential authors, performers and directors, no matter their level of experience or interests.
Enhance teaching, learning and research across disciplines
Engage liberal arts students, deepen diversity studies and spark dynamic discussion with modern interpretations of classics geared towards today's audiences. National Theatre Collection is supplemented with insights from unique archival materials – only available from ProQuest – that provide critical context around these influential works.
Highlights of the initial productions included in Volume II, with more coming in early 2022:
All My Sons
Jeremy Herrin directs Sally Field and Bill Pullman in Arthur Miller's blistering drama that takes place in 1947 America. Despite hard choices and even harder knocks, Joe and Kate Keller have built a home, raised two sons and established a thriving business. But their contented lives, already shadowed by the loss of their eldest boy to war, are about to shatter.
Barber Shop Chronicles
Directed by Olivier award-winning director Bijan Sheibani, Barber Shop Chronicles is a heart-warming, hilarious and insightful new play that leaps from a barber shop in Peckham, London, to Johannesburg, Harare, Kampala, Lagos and Accra. Barber Shop Chronicles was a co-production with Fuel and Leeds Playhouse.
Julie
Wild and single, Julie (Vanessa Kirby) throws a huge party in her luxurious London house which rapidly descends into a fight for her own survival. Fueled by social division, Strindberg's masterpiece Miss Julie remains shocking and fiercely relevant in this edgy modern adaptation by the daringly visionary Polly Stenham.
The Seagull
On a summer's day in a makeshift theatre by a lake, Konstantin's cutting-edge new play is performed, changing the lives of everyone involved forever. Chekhov's masterly meditation on how the old take revenge on the young is both comic and tragic and marks the birth of the modern stage. The Seagull stars Anna Chancellor and Geoffrey Streatfeild.
This House
It's 1974, and Britain has a hung Parliament. The corridors of Westminster ring with the sound of infighting and backstabbing as the political parties battle to change the future of the nation. During this era of chaos, when a staggering number of politicians die and age-old traditions are thrown aside, MPs find they must roll up their sleeves, and bend the rules, to navigate a way through the Mother of all Parliaments. This House is a timely, moving and funny view into the workings of British politics.
Three Sisters
Chekhov's iconic characters are relocated to 1960s Nigeria on the brink of the Biafran Civil War in this bold adaptation by innovative contemporary poet/playwright Inua Ellams. Lolo, Nne Chukwu and Udo are grieving the loss of their father. Months before, two ruthless military coups plunged the country into chaos. Fueled by foreign intervention, the conflict encroaches on their provincial village, and the sisters long to return to their former home in Lagos.
Request your free trial of the must-see National Theatre Collection: Volume II. Haven't seen Volume I? You can experience that too. Plus, request information on how you can move to 'E' quickly and affordably to support studies in the performing arts and beyond with E Now.